It has been a decade since you tied the knot with your partner. You two may have had some rough patches in between, but now that time is flying by and it feels like just yesterday when all of these memories came flooding back while looking through old photographs together on anniversaries like today!
10 years is an important milestone in any relationship, so make it extra special with one of these creative and thoughtful gift ideas. 10th-anniversary gifts should reflect the love you have for each other- whether they're traditional or something more unique! We've got all your needs covered here at Austin Wedding Blog; take a look today !!!
1. Wood Map with Personalized Milestone Pins
Capture the most important places in your lives or travels over the past 10 years in an anniversary map. You can choose up to two maps (including the U.S or World map) and customize the details. We recommend including both of your hometowns, where you met, where you got engaged, where you married, and where you honeymooned. If your couple in life loves to jet-set around the world, get this personalized wooden map.
2. TIN Date Night Dice 10th Anniversary
Turn to choose your next date into a fun little game with the tin date night dice. Two dice feature 36 date night ideas, from making a homemade pizza to having a movie night. Roll one for a short date, or two for a long date, and see where the spontaneity will take you for the night! It's a lovely product to add some spice and variety to your 10-year anniversary date night.
3. 10 Year Anniversary Family Tree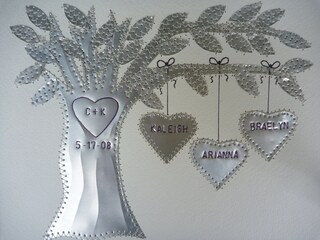 A unique and personalized gift for a couple celebrating their 10-year anniversary is an aluminum tree with stamped names and a wedding date. This meaningful gift will serve as a beautiful reminder of your love and commitment to each other. Made from recycled aluminum, this family tree is the perfect ten-year anniversary gift. You can personalize the couple's initials, last name, wedding date, and names of children on the hanging hearts.
4. Luna Bean Keepsake Hands Casting Kit
Luna Bean Keepsake Hands Casting Kit gifts are a unique and memorable way to capture the moment and frozen time of your loved ones together. Moreover, they are affordable and easy to use, making them a great option for last-minute gifts. The casting kit comes with all the necessary supplies, and the instructions are simple to follow. The finished product is a beautiful and tangible reminder of your loved ones' relationship that can be displayed in your home or given as a gift to others.
5. Personalized Hearts Four-Across Game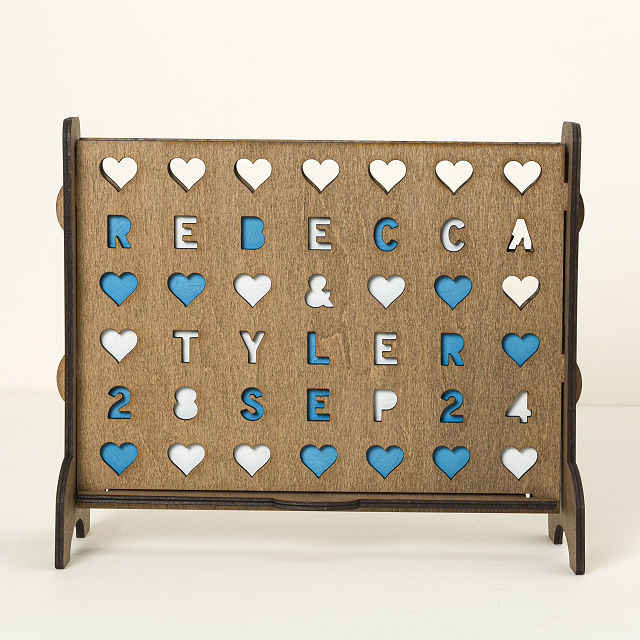 Treat your loved ones to a lighthearted game of four-across. The couple who plays together stays together. Challenge your other half to some lighthearted competition with Kasey and Justin Pearson's lovingly crafted four-across game. They carve their handsome, heirloom-quality activity set from maple wood. Amid a field of incised hearts, up to four lines (seven characters each) can be personalized with your names, anniversary date, or a sweet message to surprise the one you adore.
6. Heart Waffle Maker
Bring a little love to your favorite couple's breakfast time with this waffle maker. It comes with two heart-shaped plates that make perfect waffles. For the couple that loves breakfast in bed, this heart-shaped waffle maker is the perfect 10-year anniversary gift. It comes with a convenient drip tray to catch any errant batter and has non-stick surfaces for easy cleanup. Plus, it'll make your mornings just a little bit sweeter.
7. Keurig K-Cafe Coffee Maker
This is the Rolls Royce of coffee makers. You can use any coffee pod to brew coffee, a latte, or cappuccino, and froth milk in the dishwasher-safe milk frother. For the coffee-loving couple in your life, consider gifting them a Keurig K-Cafe coffee maker. This top-of-the-line coffee machine brews both single cups and full carafes, making it perfect for couples who can't seem to agree on how their morning cup should be served.
8. Fujifilm Instax Mini 70
This is a great gift for couples who love to take photos together. The Fujifilm Instax Mini 70 is an instant film camera that will print out high-quality photos that the couple can hang on their wall or keep in a photo album. This is a great way for the couple to capture their memories together. Make sure the couple in your life never misses another memorable moment with this camera. It prints out pictures instantly that your loved ones will want to keep forever.
9. Wine Enthusiast 6-Bottle Countertop Wine Cooler
This wine cooler is stylish and modern. It will look great in any kitchen or home bar. The sleek design also makes it very practical and easy to use. Additionally, this wine cooler is also very affordable, making it a great option for couples who are on a budget. Another reason to choose this wine cooler as a wedding gift is that it is very reliable. It has been tested and certified by Wine Enthusiast, one of the most trusted names in wine refrigeration.
10. Wicker Picnic Basket Set
If the couple you know is already living together, they may already have all the material possessions they need for their home. In this case, a unique and thoughtful gift idea would be to give them a wicker picnic basket set. This way, they can enjoy many romantic picnics together in their own backyard or at a nearby park. The basket should be big enough to fit all the essentials for a picnic, like blankets, plates, utensils, and food. You can also include a few bottles of wine or champagne to make the perfect picnic set.
11. Personalized Tiny Puzzle Piece Necklace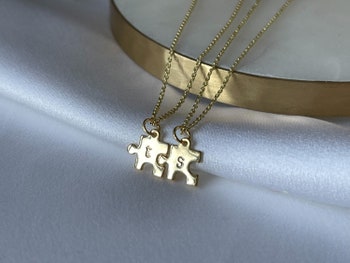 There are many ways to keep the spark alive in your relationship, and one of them is by wearing a personalized tiny puzzle piece necklace. Each necklace features two charms – one for each of you – that are connected by a delicate chain. You can choose to have the charms engraved with your name, an important date, or any other meaningful message. What's more, the tiny puzzle piece necklace is a symbol of the strength and unity of your relationship. No matter how challenging things may get, you can always rely on each other to put the pieces of your life back together.
Just remember to put some thought into it and choose something they are sure to love. It's hard to believe it has been 10 years since we first said: "I do." While the time has flown by, your anniversary is a great time to reflect on your relationship and celebrate all you have accomplished together. We hope this list of 10-year anniversary gift ideas for him and her will help you find the perfect present to commemorate this special milestone. Thanks for being part of our lives!
Subscribe to the Austin Wedding Blog
Join my email list to receive the latest articles directly in your inbox