It's hard to know what to get someone for a 13-year anniversary gift. You definitely don't want to give them something clichés like a watch or flowers. So, what are some unique gift ideas that will show how much you care? We've put together a list of the best gifts for him and her, based on your budget.
Whether you're looking for something small or something more extravagant, we've got you covered! Keep reading for our top picks.
What Is The 13-Year Anniversary Gift?
Traditional Gift – Lace
The 13-year anniversary gift is traditionally a piece of lace. Lace is a beautiful and delicate fabric that is often used in wedding dresses and other special garments. It is also a symbol of love and fidelity. Now, the modern theme of the 13th-anniversary gift is all about bringing warmth and comfort.
Modern Gift – Fur & Textiles
The modern gift for the 13-year anniversary is fur and textiles. Fur is a luxurious material that is often used in clothing and accessories. It is also a popular material for making rugs and other home decor items. Textiles are also a popular choice for anniversary gifts. They can be used to make clothing, linens, and other household items.
Flower – Chrysanthemum
The flower associated with the 13-year anniversary is the chrysanthemum. Chrysanthemums are a symbol of love and fidelity. They are also a symbol of hope and joy.
Gemstone – Citrine
The gemstone associated with the 13-year anniversary is citrine. Citrine is a yellow-orange stone that is said to represent the sun. It is also said to promote success and good fortune.
Our 13-year anniversary gift ideas include old and new traditional gifts, as well as others we've chosen for those who like to break with convention. Read on for the best 13th-anniversary gifts.
13th Anniversary Gifts For Your Wife
1. Bikini Cover Up Lace Robe
If you are looking for something unique and personal for your lovers, consider getting them a bikini cover-up lace robe. This is the perfect garment to wear after coming out of the pool or ocean, as it provides all-day comfort while keeping you stylish and chic.
2. Black Lace Choker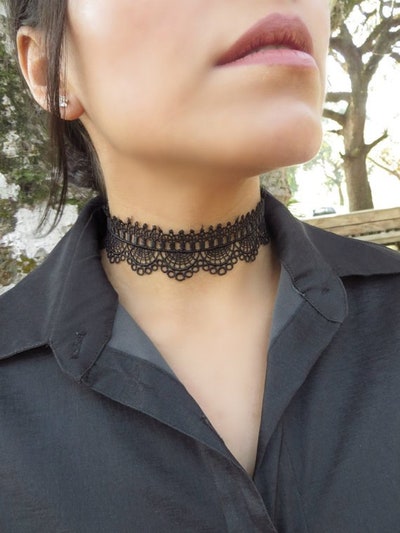 A black lace choker is a unique and thoughtful way to show your partner how much you care. Chokers have been traditionally associated with royalty and luxury, making them the perfect gift for a 13-year anniversary. A black lace choker also has a modern and trendy feel, which will appeal to your partner's sense of style.
3. Shawl Wrap Lace Knitted Wool
A lace shawl is a perfect way to commemorate a momentous occasion or milestone. Whether you want to celebrate 13 years of marriage or 13 years in your career, a knitted lace shawl is sure to make a meaningful and lasting impression.
4. Rustic Wedding Guest Book
With its intricate design and soft yet durable construction, a lace wedding guest book is perfect for marking 13 years together and celebrating all of your favorite moments on this momentous occasion. Whether you use it to document each person who attended or simply flip through its pages to read all of the heartfelt messages from your loved ones, this thoughtful gift is sure to be cherished for years to come.
5. Vintage Lace Initial Necklace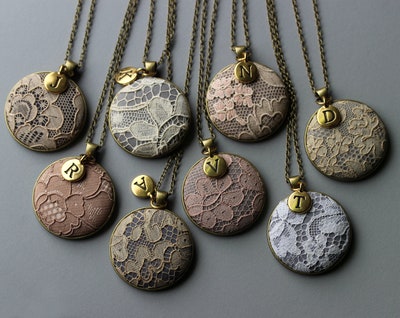 A vintage lace initial necklace is a beautiful and unique way to show your spouse how much you love them. The intricate designs of vintage lace add a touch of elegance to any outfit, and the initials ensure that the necklace is personal and meaningful.
6. Luxury Faux Fur Throw Blanket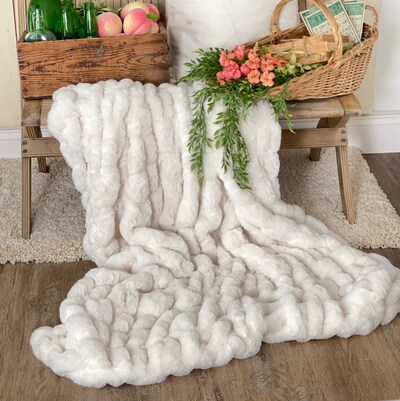 A luxury faux fur throw blanket is the perfect 13th-anniversary gift to mark a momentous occasion. The best part about this gift is that it can be enjoyed for many years to come. The faux fur is incredibly soft and luxurious, making it a cozy addition to any home.
7. Personalized Name Pom Pom Keychain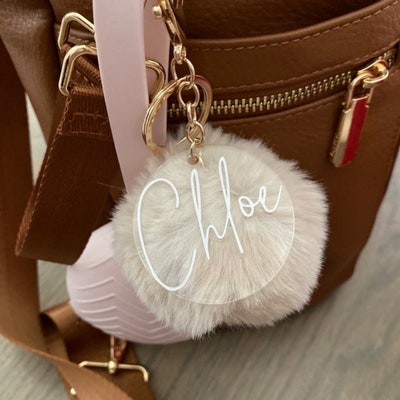 Made from high-quality materials, this keychain can be customized with your loved one's name or a special message. It's the perfect way to show them how much you care on this special occasion. 13 years anniversary gifts should be given with love, and this keychain is the perfect way to show your love and appreciation.
8. Faux Fur Headband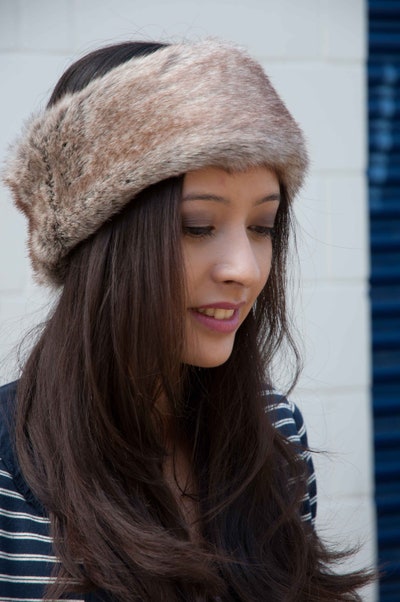 Faux fur is a popular material choice for today's fashion-conscious consumers. Combining the appearance and softness of natural fur with the durability and affordability of synthetic fabrics, faux fur lends a luxurious accent to any outfit.
9. Personalized Slippers for Women
These stunning slippers can be embroidered with your initials, your anniversary date, or any other special message. They are also lined with luxurious faux fur to keep your feet warm and cozy all winter long. So whether you're looking for 13th-anniversary gifts for her or 13th-anniversary gifts for him, these gorgeous slippers are sure to impress.
13th Anniversary Gifts For Your Husband
1. Lace Cufflinks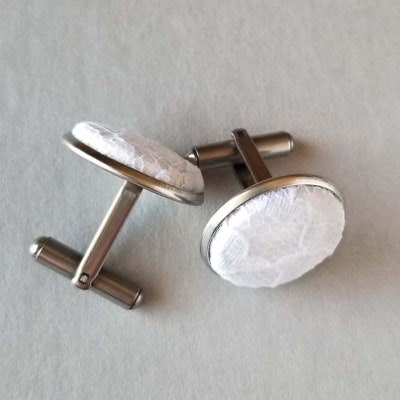 Lace cufflinks are a sophisticated and elegant choice for those seeking 13th-anniversary gifts. Made from intricately designed lace patterns, these cufflinks are the perfect way to commemorate a momentous occasion with timeless style and grace. Whether you're shopping for your significant other or looking for a special gift to celebrate a milestone event in your own life, lace cufflinks are sure to impress.
2. Cottage Lace Silk Necktie
Cottage Lace Silk Necktie is the perfect gift for any man who loves to dress sharp. Made from luxurious silk, this tie is marked with intricate lace patterns that are sure to make any suit stand out. Furthermore, the 13 years anniversary is also the perfect time to start new traditions. Why not use this occasion to create a special 13th-anniversary gift that you can look forward to exchanging every year?
3. Rustic Love Picture Frame
With its weathered design and a charming white heart accent, this photo frame is a wonderful way to showcase an important memory or keepsake for years to come. Whether it's used as part of a wedding display or given as an everyday token of affection, this 4×6 picture frame is a truly timeless choice that embodies the true essence of romance.
4. Heart-Lace Stained Glass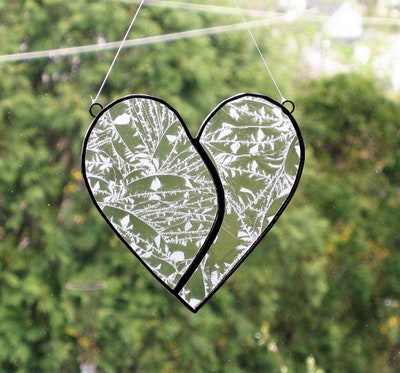 For couples who love traditional methods of expression, heart-lace stained glass is the perfect 13th-anniversary gift. Stained glass is an art form that has been used for centuries to add beauty and interest to windows and other architectural features.
5. Lace Anniversary Pebble Artwork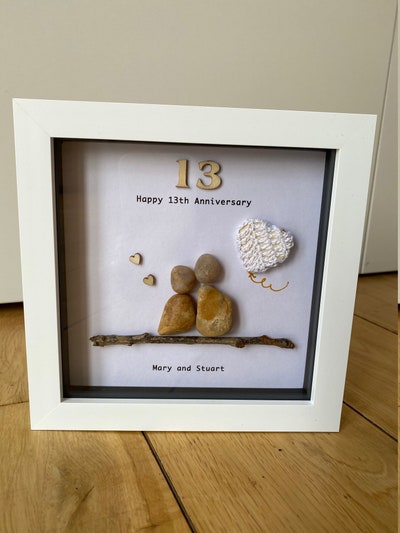 This artwork features intricately-carved lace designs laid over smooth river stones, creating a stunning piece that highlights the delicate beauty of lace. The distinct patterns and textures featured in the artwork make it an ideal gift for anyone who appreciates the elegance and craftsmanship of hand-made items.
6. Brazilian Style Double Deluxe Hammock
Looking for a unique and memorable anniversary gift? Look no further than the Brazilian Style Double Deluxe Hammock. Crafted from the highest quality materials, this stylish and comfortable hammock is the perfect way to mark a momentous occasion.
Whether you're looking for an anniversary gift that celebrates a milestone or one to mark the end of a long journey, we hope this list has given you some ideas. No matter what you choose, make sure it is something your loved one will appreciate and cherish. They say time flies when you're having fun and that sentiment definitely rings true on anniversaries – so make sure to celebrate in style! What was your favorite 13th-anniversary gift? Let us know in the comments below.
Subscribe to the Austin Wedding Blog
Join my email list to receive the latest articles directly in your inbox