It is not easy to find a gift that expresses your love and commitment after 16 years of being together. If your partner has everything, how do you find a present that will show them how much you still care? It's tricky but possible. Here are some creative and unique gift ideas for your 16-year anniversary. Happy anniversary!
What Is The 16-Year Anniversary Gift?
Traditional Gift – Wax
The traditional gift for the 16th anniversary is wax. While this may not seem like the most romantic of gifts, it actually has a lot of symbolism. Wax is used to create candles, which are often used as a way to set the mood for a romantic evening. Wax is also used to make seals, which represent the commitment that you have made to each other. Finally, wax is a symbol of the light that you bring into each other's lives.
Modern Gift – Silver Holloware
If you are looking for a more modern gift, the alternate gift for the 16th anniversary is silver hollowware. This includes items such as bowls, platters, and vases. Silver is a traditional symbol of elegance and beauty, making it the perfect gift for a couple that has been together for 16 years.
Flower – Statice
The flower associated with the 16th anniversary is statice. Statice represents remembrance and everlasting love. This makes it a perfect gift for a couple that has been together for a long time and wants to remember the good times they have shared.
Gemstone – Peridot
The gemstone associated with the 16th anniversary is peridot. Peridot is a green gemstone that symbolizes growth and renewal. This makes it a perfect gift for a couple that is still growing together after 16 years.
16th Anniversary Gifts For Her
1. DIY Candle Making Kit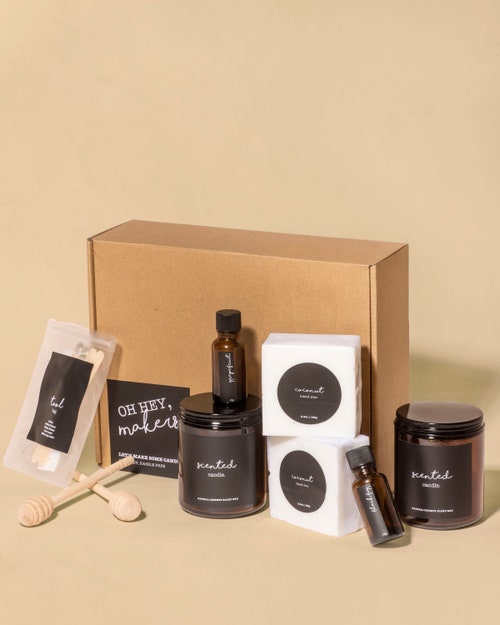 A DIY candle-making kit is a perfect way to show your partner how much you care, while also giving them a fun activity to do together. Plus, who doesn't love candles?
2. Raw Peridot Ombre Ring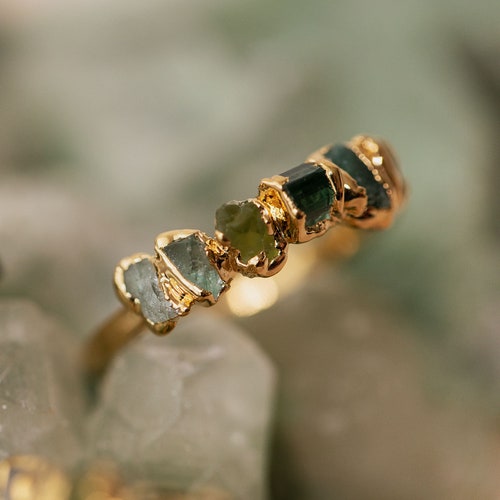 This ring is the perfect addition to your jewelry box. With its bold hombre pattern,14k gold plating, and exquisite gemstones like peridot, prasiolite green tourmaline emeralds & garnets it will make everyone else envious!
3. Personalized Silver Wallet Insert Card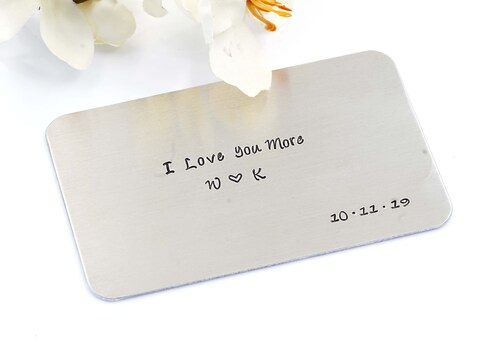 You still say "I love you" as eagerly today, and it's a sentiment that never goes out of fashion. Give your partner this silver card to remind them how much they mean in life with a 16th-anniversary gift!
4. 16 Years We Made a Family Sculpture Figurines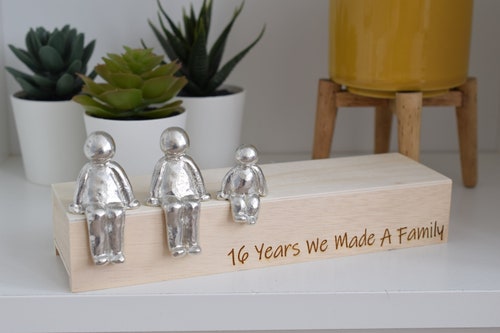 What do you get from a family that has everything? The answer is simple: more. With up to four kids, this adorable sculpture will be able to hold all of your loved ones and celebrate their accomplishments together as one big happy silver unit!
5. Personalized Log Candle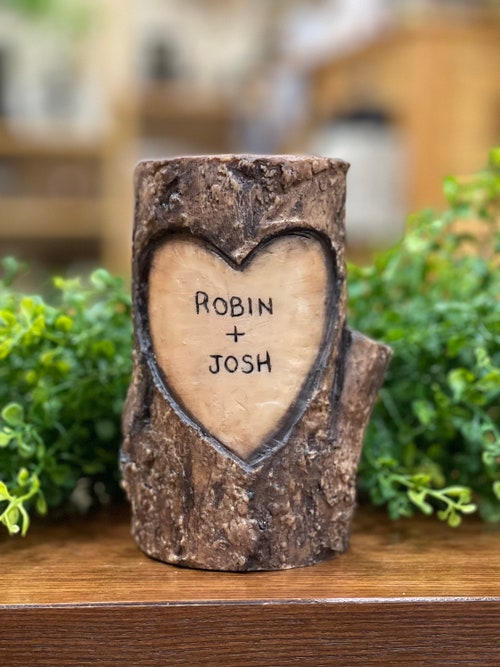 The personalized log candle is made from soy wax and engraved with your and your beloved's name. "Our Love Log Candle" is a way to preserve the tradition of when couples would carve their names into a tree to represent strong, everlasting love.
6. Silicone Scented Candles Mold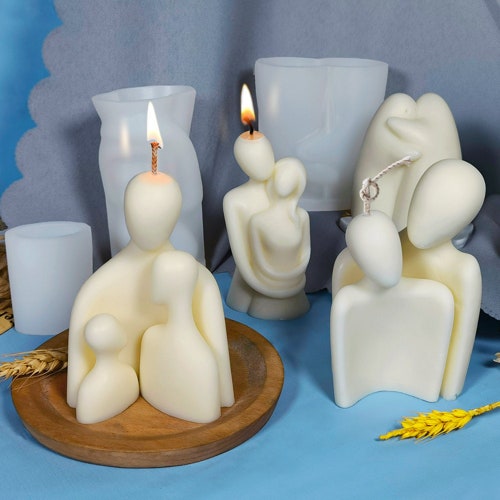 Make your own candles with this kit, and you'll never have to buy another candle again. The detailed instructions make it easy for even those without much experience in crafts or DIY projects alike!
7. Custom Wax Stamp and Seal Kit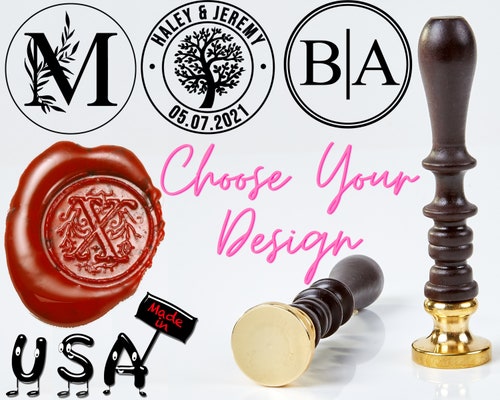 This is a great way to seal your important documents, like letters and invitations. It's also perfect for sealing Christmas cards! This is a thoughtful gift that will be used over and over again throughout the years.
8. Waxed Canvas Tote Bag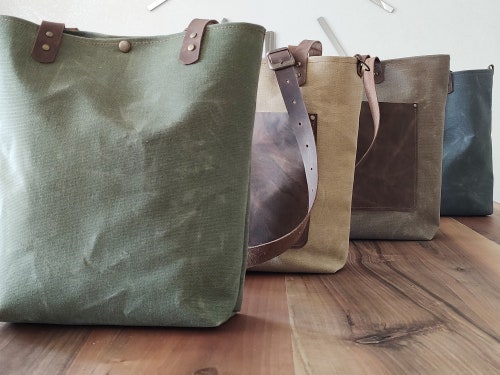 Your wife will love this bag! It's a perfect size, lightweight and durable. The waxed canvas is an extremely strong fabric that can hold up to daily use while still being organic & vegan; not to mention waterproof (perfect for any occasion). You'll add some character marks on it giving your new favorite piece of luggage a well-worn look – just what you want in a good handbag or backpack right?
16th Anniversary Gifts For Him
1. Gemvara's Gemstone Band Ring
Give him a ring that brings together silver and peridot in the form of an anniversary gift. Consider sleek, modern designs like Gemvara's Gemstone Band Ring – it features gemstones in green for another fresh touch on their day!
2. Engraved Silver Flask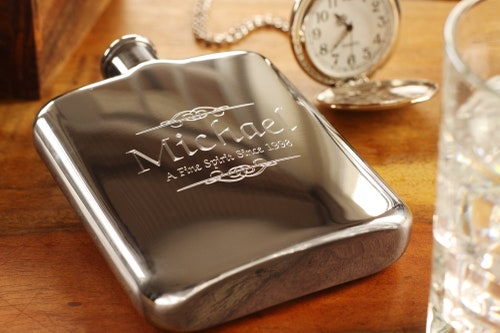 This sleek, elegant stainless steel bottle is perfect for anyone looking to be fancy with their drinking. It can hold 6 ounces of liquid and has a choice of engraving styles that will make any drinker happy!
3. The Beard Club Beard Wax
The Beard Club has taken men's facial hair to a new level with their revolutionary jar of beard wax. The product softens even the scruffiest hairs and moisturizes hard-to-manage beards, mustaches, or sideburns without compromising on style! For those looking for more products in related categories such as Shampoo/Cream duo then look no further because these are available too from our trusted brand partners at The Beard Club.
4. Bash Silver Beverage Tub
This beverage tub is the perfect accessory for any occasion. It can be used at backyard gatherings or to chill wine in between dinner parties, and its hammered aluminum finish will shine without getting too flashy while still remaining functional thanks to subtle cutout handles that make carrying this around simple!
5. Custom Personalized Flatware Set
That special couple is sure to enjoy a personalized flatware set. They will think of you every time they use this impressive table setting. These stainless steel utensils can be laser engraved with a name, initials, word, or date of your choice. A gift to last for years to come.
6. Personalized Photo Engraved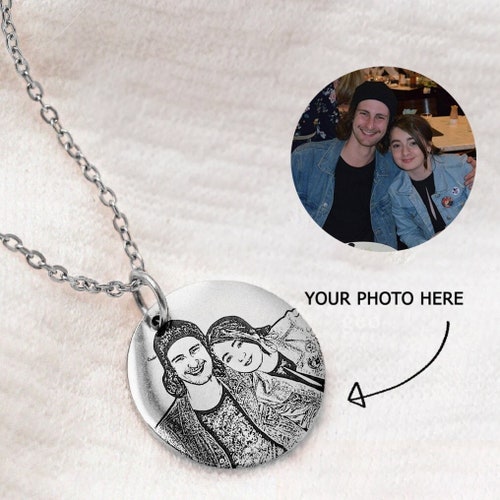 A personalized photo engraved necklace is a must-have for your anniversary. Your husband will adore this piece of jewelry for years to come and wear you close to his heart and love you for this thoughtful gift.
7. Peridot Necklace for Men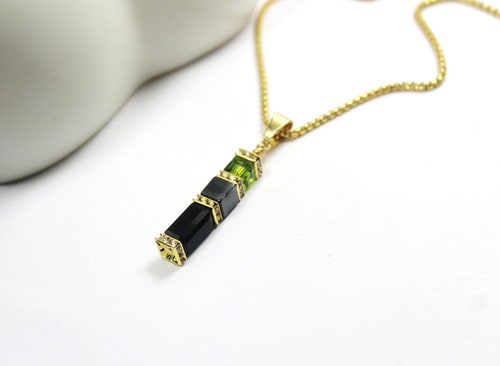 This beautiful piece of jewelry is the perfect gift for your husband. The sophisticated look features peridot and black tourmaline set in gold or silver, which will make him feel like royalty!
8. Personalised Metallic Coffee Mug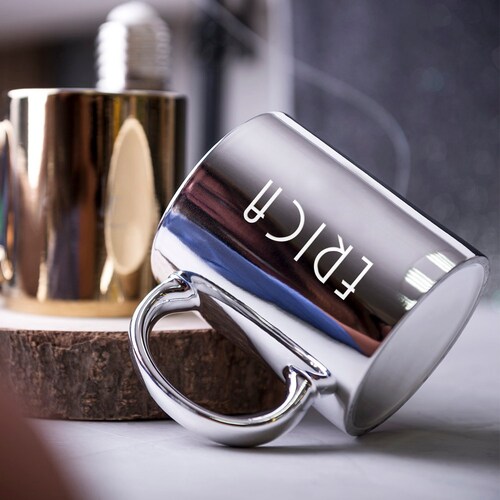 He will be sure to appreciate his own personalized, engraved ceramic coffee mug. Call him "honey" or just print out this page with the nickname he loves best and put it in an envelope for each morning drink!
Subscribe to the Austin Wedding Blog
Join my email list to receive the latest articles directly in your inbox