This year, as you celebrate your 17th wedding anniversary, you may be wondering what to give your husband or wife. While there is no one perfect gift that will suit everyone on this special anniversary, there are plenty of ideas that can help make the day memorable.
Whether you want to find something unique and exciting, or something more traditional, these 17th anniversary gifts for husband and wife are sure to please. So take a look and see what might work best for you!
What Is The 17th Anniversary Gift?
Traditional and Modern: Furniture
The 17th-anniversary gift is furniture. This is a traditional gift that has been around for centuries. It is a practical gift that can be used in the home and will last for many years. Furniture is also a symbol of stability and strength, which is why it is such a popular choice for an anniversary gift. If you are looking for a gift that is both practical and symbolic, then furniture is a perfect choice.
Flower – Red Carnation
The carnation is the official flower for the 17th anniversary. The red carnation is a symbol of love and affection, which makes it a perfect choice for an anniversary gift. If you want to give a gift that is both beautiful and meaningful, then the carnation is a great choice.
Gemstone – Carnelian
The carnelian is the official gemstone for the 17th anniversary. The carnelian is a red stone that is said to represent strength and stability. It is a popular choice for an anniversary gift because it is both beautiful and meaningful. If you are looking for a gift that is both practical and symbolic, then the carnelian is a perfect choice.
17th Anniversary Gifts For Her
1. Round 14k Solid Gold Carnelian Necklace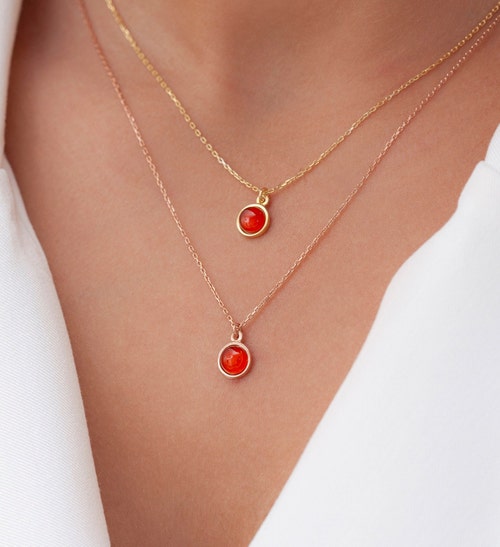 As soon as we saw this gorgeous piece of jewelry, our hearts started beating faster. It's simple yet elegant and the perfect gift for any woman in your life who has great taste! You can also get it wrapped up by request – just let us know when you need deliverance from those pesky Christmas gifts once they start appearing on people's shelves at stores everywhere…
2. Make Up Table and Stool Set
This desk is a great way to add some style and practicality to your favorite lady's primping routine. The four roomy drawers make it easy for you, while also ensuring that all of her supplies are stored securely! It would make an ideal gift on any furniture anniversary – don't wait until next year when this perfectly unique piece will be gone forever!"
3. Farmhouse Storage Cabinet
4. Heart Waffle Maker
Heat up your love for breakfast with this heart-shaped waffle maker. It comes equipped to make two perfectly round, golden brown waffles that are ready in no time at all! The cute little couple will be thrilled and so pleased because not only does it have their favorite food but also something they can use every day of the week too-made by them for each other (and who doesn't want some extra sweetness during these cold winter months).
5. Fujifilm Instax Mini 70
The future of photography is now available in your hands. The Instax Mini 70 takes the quality and fun factor to a whole new level, with its instant printout that can be easily hung on the wall or saved forever as keepsake photos – ideal for your wife looking forward to recording all your memories together!
6. Garden Kneeler And Stool
The garden kneeler and stool are a great gift for your wife that loves spending time outside in her own backyard. The handy tool can make gardening easier on both knees, backsides, or any other joints you might have along with providing an extra seat when needed! It's perfect to allow your couple more bonding opportunities while working side by side.
17th Anniversary Gifts For Him
1. Red Carnelian Cufflinks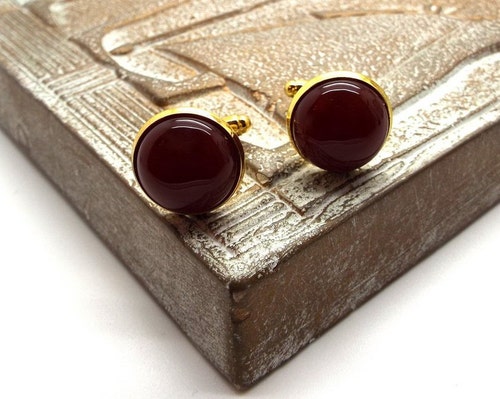 If you're looking for a great way to up your outfit game, these cufflinks are exactly what the doctor ordered. With their rich red tone and 18K gold combination, they will add some classy appeal that cannot be missed!
2. Indoor Hover Hockey Game Table
It's a gaming table, but with an updated look that would make it perfect for any couple celebrating their anniversary. A mid-century design meets rec room fun in this beautiful piece of furniture!
3. Rock Art Side Table
He's always playing music and now he can have a spot to display all his favorite album covers. This colorful side table is the perfect place for him to do so, with artwork from artists like Jimi Hendrix or Journey on hand!
4. Beer Bottle Opener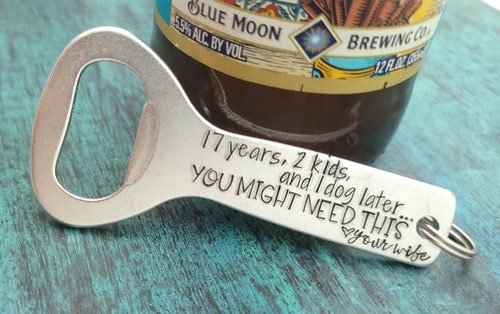 The beer bottle opener is a must-have for anyone who likes to have fun. The best part about it? You can take this tool with you anywhere, so your friend won't be left out when he wants some quality time with his buddies!
5. State Side Table
If you want to show your love and appreciation for all those years of marriage with a side table, it's time. A small yet thoughtful gift is perfect because there isn't anything too extravagant or bulky that would take up valuable space in their home!
6. Carnation Flower Floral T-Shirt
Floral prints never go out of style, so why not give him a shirt that features a print of carnations? Let him know that the flower is a symbol of love and that it's one of the 17th wedding anniversary gifts. He's bound to remember your love for him every time he wears it.
Seventeen years is a long time, and it's definitely worth celebrating. Whether you're looking for something unique to do or want to find the perfect gift, we hope this guide has given you some ideas on how to make your anniversary extra special. We wish you all the best as you commemorate this milestone in your relationship!
Subscribe to the Austin Wedding Blog
Join my email list to receive the latest articles directly in your inbox