Looking for the perfect anniversary gift to show your significant other how much you love them? Whether your spouse is a traditional or non-traditional type of person, we've got you covered with 14 ideas that will make their eyes light up. From heartfelt and romantic gifts to fun and unique surprises, we've got something for everyone!
So take a look below and find the perfect idea for the loved one in your life. Happy anniversary!
What Is The 14-Year Anniversary Gift?
Traditional 14th Anniversary Gift – Ivory
You're in luck because your 14th wedding anniversary is doubly lucky! The traditional gift for this occasion is ivory decorations which represent patience and stability but skip the real ivory (save the elephants!) and get something off-white instead.
Modern Gift – Gold Jewelry
However, you may want to consider giving gold jewelry instead – it's a perfect token of beauty that will last forever with someone who has been through so much together over the years  to celebrate their love story start-to-finish.
Flower – Orchid
The 14th anniversary is a special one for couples. The traditional gift for this anniversary is the flower – in particular, an orchid. Orchids are beautiful, exotic flowers that come in many different colors and varieties. They are also symbols of love, luxury, and strength. Giving your spouse an orchid on your 14th anniversary is a way of saying that your love is as strong and beautiful as this flower.
Gemstone – Opal
The 14th-anniversary gemstone is opal. Opals are beautiful, iridescent stones that come in a variety of colors. They're said to represent hope, imagination, and creativity. Giving your spouse an opal on your 14th anniversary is a way of saying that you believe in their dreams and aspirations.
We've rounded up some great ideas on how to bestow this special day with an unusual celebration in their honor.
14th Anniversary Gifts For Him
1. Elephant Personalised Gift Art Print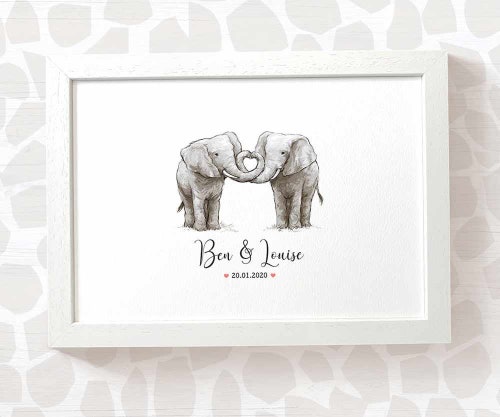 A perfect way to celebrate your wedding anniversary is with an animal print, like this adorable elephant. It's customized for you and features the date of their special occasion! Your partner can hang it up in any room as a reminder that not only do they have many years together but also what makes them unique individuals who deserve love every day.
2. Two-Piece Loving Elephant Figurines
Beautiful in a bedroom, this finely-crafted pair of wood-look elephant couple figurines represent love and faithfulness between two people. Place these charming elephant figurines with trunks up near the front door, where they are said to bring good luck, protection, and strength to the household.
3. Black Onyx Square Signet Ring From Mejuri
Put a unique twist on your partner's ring collection with this gold jewelry. The 14k-gold and black onyx center stone make for an awesome, elevated look that they can wear alongside their wedding band as a tribute to your relationship.
4. Piscifun Fishing Line Winder Spooler Machine
If you want to give him a special gift that offers him a chance to spend a day doing something he loves, let it be an experience he won't forget any time soon. If he loves fishing, then the Piscifun Fishing Line Winder is a great choice. This portable machine can easily wind a fishing line onto any spool, and it's perfect for baitcasting, fly fishing, and spin casting reels. Plus, it's a great way to keep his fishing gear organized and tidy.
5. Wood Map with Personalized Milestone Pins
Capture the most important places in your lives or travels over the past 14 years in an anniversary map. You can choose up to two maps (including the U.S or World map) and customize the details. We recommend including both of your hometowns, where you met, where you got engaged, where you married, and where you honeymooned. If the couple in your life loves to jet-set around the world, get them this personalized wooden map. They can use the customizable push pins to commemorate their favorite special occasions.
6. Luna Bean Keepsake Hands Casting Kit
Luna Bean Keepsake Hands Casting Kit gifts are a unique and memorable way to capture the moment and frozen time of your loved ones together. Moreover, they are affordable and easy to use, making them a great option for last-minute gifts. The casting kit comes with all the necessary supplies, and the instructions are simple to follow. The finished product is a beautiful and tangible reminder of your loved ones' relationship that can be displayed in your home or given as a gift to others.
7. Anniversary Cartoon Portrait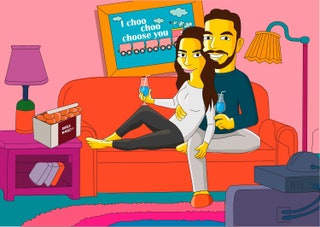 This is a fun gift that will either make a couple laugh out loud or at least get an "aww." Maybe even both. Choose a background (sitting on the couch, skiing the slopes, etc.) and upload a picture of the couple, which will then be turned into a portrait. But not just any portrait, they'll be painted as yellow cartoon characters.
8. Collapsible Folding Camping Beach Table
This table is perfect for couples who love camping and spending time outdoors. It's easy to set up and takedown, and it's very lightweight, making it perfect for carrying in your backpack. It has a lot of surface area, so you can easily fit all of your camping gear on it, and it has a hole in the center so you can put your umbrella in it to keep yourself shady.
9. Fujifilm Instax Mini 70
This is a great gift for couples who love to take photos together. The Fujifilm Instax Mini 70 is an instant film camera that will print out high-quality photos that the couple can hang on their wall or keep in a photo album. This is a great way for the couple to capture their memories together. Make sure the couple in your life never misses another memorable moment with this camera. It prints out pictures instantly that your loved ones will want to keep forever.
10. Heart Waffle Maker
Bring a little love to your favorite couple's breakfast time with this waffle maker. It comes with two heart-shaped plates that make perfect waffles. For the couple that loves breakfast in bed, this heart-shaped waffle maker is the perfect 10-year anniversary gift. It comes with a convenient drip tray to catch any errant batter and has non-stick surfaces for easy cleanup. Plus, it'll make your mornings just a little bit sweeter.
14th Anniversary Gifts For Her
1. The Smart Garden
For the couple that loves to cook, this smart indoor garden allows them to grow their own herbs and veggies all year long, right in their kitchen. Moreover, you've always wanted minimal time and effort on planting. You also don't need a backyard (or even a hospitable climate), and finally, you'll always have fresh produce on hand for cooking and garnishing.
2. The Complete Plant-Based Cookbook
If your partner is interested in learning how to cook healthier meals, this cookbook is a great option. It contains 500 recipes for plant-based meals that are both healthy and delicious. Whether your partner is a novice cook or an experienced one, they're sure to find some new favorite recipes in this cookbook.
3. Autism Awareness Bracelet
To mark your 14th wedding anniversary, you may want to consider the Autism Awareness Bracelet from Ivory Ella. This is a meaningful gift that will remind your spouse of elephants who suffer from damage every single day and is in need of help and support.
4. Autism Acceptance T-Shirt
These T-shirts are so much cuter loungewear—but they also have a special meaning. Ivory Ella is committed to donating a portion of its annual profits to saving elephants, so your partner can do good while feeling good. Get them the whole set or a piece or two as a thoughtful themed gift.
5. Ring Holder-Good Luck Elephant
This 14th-anniversary gift idea is both unique and practical. The Evelots Ring Holder-Good Luck Elephant is a trinket dish that is perfect for holding rings, earrings, or other small pieces of jewelry. The elephant design is said to bring good luck, so this makes a great gift for your spouse if they could use a little extra luck in their life.
6. MATEO From Net A Porter
It's official: Anklets are back. If your partner is always looking for the next, trending item in fashion, this is the perfect gift for them. Designed by self-taught designer Matthew Harris, this simple, elegant anklet is a gorgeous addition to any outfit. Psst: If your partner isn't into the retro trend, they can also wear this as a bracelet.
7. Pearl Drop Hoop From Yam
The perfect gift for your creative partner, these pretty pearl drop earrings are both elegant and fun. Plus they're made with upcycled materials to give an even more vintage feel that no one else will be able to resist!
8. Diamond Tennis Bracelet From Blue Nile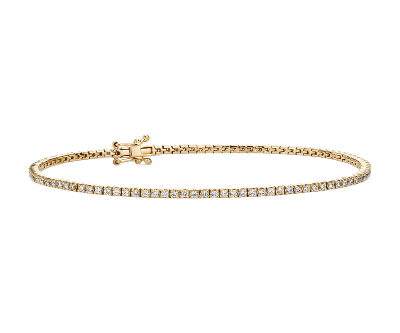 Looking for the perfect modern 14th-anniversary gift? You won't be able to go wrong with a tennis bracelet. The thin gold chain feels fresh and classic, while diamonds make this absolutely timeless – your partner can stack it up or wear it on their own!
9. Diamond and Opal Necklace From Gorjana
The 14th year is a big milestone, which means it's time to get creative with your anniversary gift! This necklace has everything you could want – from gold chains and diamond accents all the way down to pretty pieces of opal. If they already have any necklaces in their collection then this will make for an easy layering effect that reminds them how much love there still deserves.
10. Masterclass the gift of a new skill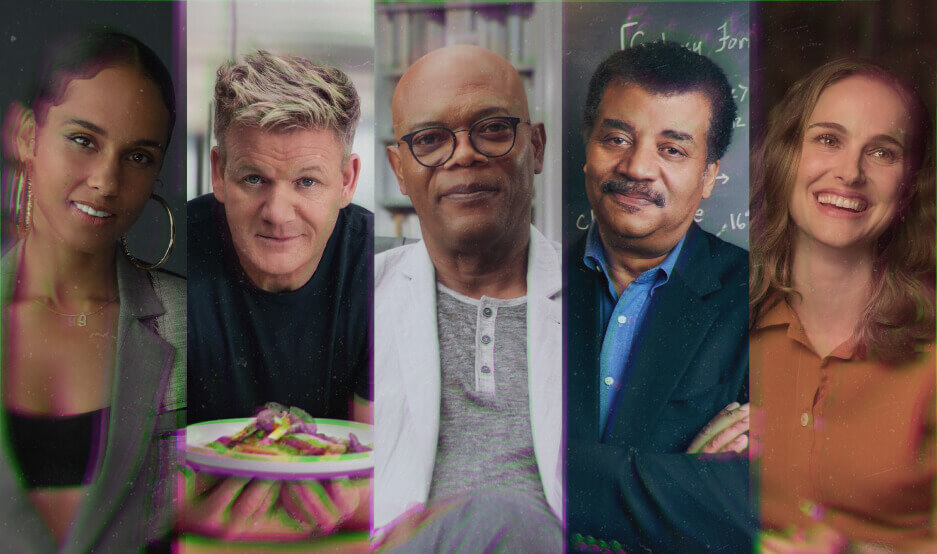 Is there something your partner has always wanted to learn? A new language? How to cook? How to play the guitar? Whatever it may be, this 20-year anniversary gift idea is all about giving your partner the chance to learn a new skill. And what better way to do that than with a masterclass from someone who is an expert in the field?
Whatever you choose, make sure it is a gift that your partner will appreciate and use. A 14th-anniversary gift is a special way to show your love and commitment, so take your time and choose something thoughtful and meaningful.
Subscribe to the Austin Wedding Blog
Join my email list to receive the latest articles directly in your inbox